Home
Welcome to the Sligo Branch of the Manchester United Supporters Club, we will update you with all the latest news from the Sligo Branch of Manchester United Supporters Club.
********************Manchester United Supporters Clubs Worldwide********************
Recently United released their top 50 Branches worldwide. We are delighted to have the Sligo Branch placed in 2nd place in the RoI, only behind Dublin, 3rd in all of Ireland, behind Muckamore & Dublin and 23rd worldwide behind the likes of Hong Kong & Scandinavia.
We are very proud of our place on this table, not bad for a regional town in the Northwest of Ireland.
If you are a member of United but not through a Branch, get in touch and we will attach you to our Branch or put you in touch with your nearest Branch.
The more members each Branch have, the more tickets the Branch are entitled. Therefore, they have more tickets for their Branch members.
Remember, it costs you nothing extra to be linked to our Branch. The only fee is your membership fee, which is paid directly to Old Trafford.
If you are interested in joining, please use the "contact us" link above or email us at manutdsligo@gmail.com
********************Official Membership********************
Manchester United have launched a 2nd Membership option for United fans.
Option 1 is the Full Membership package which includes a limited edition scarf, pin badge, commemorative FA Cup postcard, 2016/17 yearbook (which must be collected at Old Trafford) and your membership card.
Option 2 is the new Lite Membership, which only includes you membership card
Both options offer the same entitlements regarding ticket applications, Red Cafe discounts, shopping in the Megastore or on Manutd.com.
Lite Membership is only available to be purchased through the Branches of Manchester United Supporters Clubs. If you are interested in becoming a member and wish to buy either of the membership options please get in contact.
Note: All the fees above go directly to Old Trafford, there is no fee to be linked to our Branch. If you are a member of United, but not linked to a Branch, please get in touch as by joining our Branch our ticket allocation is increased and you are increasing your chances of getting match tickets.
Next Meeting & Match Tickets:
Our next meeting will be held on THURS 27th October at 9pm in the Embassy Rooms.
Match tickets still available for the following games:
United v Fenerbache - Europa League - Thursday 20th October @ 20:05
United v Feyenoord - Europa League - Thursday 24th November @ 20:05
United v Tottenham - Premier League - Sunday 11th December @ 14:15
United v Sunderland - Premier League - Mon 26th December @ 15:00
United v Middlesborough - Premier League - Saturday 31st December @ 15:00
Remember, if you intend to apply for match tickets your must be a member.
Fixture changes: The times & dates have been fixed for the following home games:
United v Tottenham Sun 11 Dec @ 14:15
United v Sunderland Mon 26 Dec @ 15:00
United v Middlesborough Sat 31 Dec @ 15:00
United v Liverpool Sun 15 Jan @16:00
2016/17 Premier League:  A very defensive and hard working display from United earned a point away at Liverpool in a game that had few chances and finished 0-0. A man of the match preformance from Herrera saw United control the first half but needed 2 big saves from De Gea to keep Liverpool out in the second.


Next up is another game on the road, this time away at Chelsea on Sunday at 4pm.
Europa League: Fenerbache and RvP came to Old Trafford on Oct 20th for an entertaining game which United won 4-1. Two quickfire pens after half an hour - converted by Pogba & Martial, set United on their way. Pogba scored again before the break with a brilliant goal and Lingard equally in the 2nd half. RvP replied late on, to applause from all in OT.
Next up is the return fixture in Turkey on the 3th November
Feyenoord v United          1-0
United v Zorya Luhansk    1-0
United  v Fenerbahce        4-1
Fenerbahce v United         03rd Nov @ 18:00
United v Feyenoord           24th Nov @ 20:05
Zorya Luhansk v United    08th Dec @ 18:00 
Tickets on sale now for the home games, get in touch if interested.
League Cup: A 3-1 victory away to Northampton Town in the League Cup thanks to goals from Carrick, Herrera & Rashford will be followed up by a home tie against Manchester City. The game will be played on Wed 26th October.
Liverpool Airport to Manchester: Bus company TERRAVISION have ceased operating between Liverpool Airport and Manchester City Centre.
You can now choose between making the journey by train or bus
By Bus: Northwest Coachlines run a number of buses directly between Liverpool Airport & Manchester city centre for a fee of £15.00 return. Tickets must be booked at : http://northwestcoachlines.com   
By train: fans can take the train to Manchester from South Parkway Railway Station, which is 3 miles from Liverpool Airport. Trains leave for Manchester every 30 mins approx. There is a bus service between the Airport & South Parkway station or take a taxi.
 Please check the time tables before travel to ensure they suit. Check out times and fairs at www.nationalrail.co.uk
Please keep this in mind when booking flights etc as this will add  time to your journey.
Hotel Football:  Hotel Football opposite Old Trafford offers a unique experience for all United fans right on Old Trafford's doorstep. The offer different level packages, from walk in bars, buffet package to full sit down packages including a Q&A session with a United legend. Special discount codes are available for Branch members, get in touch if interested. Clink on the link at the bottom of the page to see their website for details, upcoming packages and prices  or visit www.hotelfootball.com
@MUFCSligobranch: Don't forget you can follow us on twitter for the latest news regarding all things United at @MUFCSligobranch
Branch Text Service: Regular text messages are sent to members with information regarding upcoming meetings, United fixtures, ticket available etc..
If you are a member and not receiving  these texts and would like to be included, please e-mail the Branch using the "contact us" link, confirming your name and mobile number.
GALLERY PHOTOS: If any member has a photo associated to United and would like to have it displayed in the gallery pages of this website, please bring it to the next meeting, all photos will be returned.
         OUR SPONSORS         
Ireland West Airport - Knock: May 2016 marked the 30th Anniversary of Ireland West Airport (formally know as Knock Airport) and the opening up of the West of Ireland to many parts or Europe and visa versa. Today, regular flights depart and arrive from Spain, Portugal, Italy, Scotland and various airports in the main cities in England.
For members of our Branch, and Manchester United fans in general, Ireland West Airport has made our journey so much easier to get to Manchester to see United play.
With Ryanair flying to Liverpool and Flybe flying directly to Manchester, both on a very regular basis, travel time and cost has been greatly reduced.
We wish Ireland West Airport every success for the future, and we as a Branch of the Manchester United Supporters Club we are delighted to have them as our sponsor.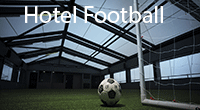 Hotel Football is part owned by Ryan Giggs, Gary & Phil Neville, Nicky Butt & Paul Scholes. It is located a 2 minute walk from Old Trafford. It offers beautiful bedrooms with views of Old Trafford, a must for all United fans. Also on offer is excellemt food and drink.
On matchday, Hotel Football offer a variety of packages from £40.00 which includes food, drink and a Q & A session with a United Legend.
Check out hotelfootball.com for details.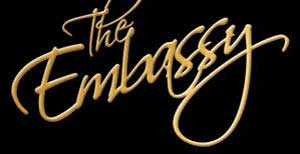 The Embassy Rooms is a bar, restaurant, snooker/pool tables & night club along the Garavogue River in Sligo town.
It is also home to the Sligo Branch of the Manchester United Supporters Club.
Check it out for great food, drink & great entertainment.