Home
Welcome to the Sligo Branch of the Manchester United Supporters Club, we will update you with all the latest news from the Sligo Branch of Manchester United Supporters Club.
Victor Lindelof: United have reached an agreement with Benfica for the transfer of defender Lindelof, the fee is believed to be in the region of €30m.
Annual Draw Winners: The winners of our 2017 Annual Draw were presented with their cheques on Friday night, 9th June. Congrats to our winners and once again a big thank you to all who supported this years draw.
1st prize been presented to Kevin Maye by committee members on behalf of the Haran Girls  
 2nd prize winner Carol Ward receiving her cheque from Branch committee members
Annual General Meeting: Our AGM will be held in The Embassy rooms on THURSDAY 29th June at 9pm. All members welcome.
Membership Renewals:  It's time for membership renewals. Existing members only need to decide if they want to renew as Full Members or Lite Members and pay the subscribtion fee, new members are also welcome, same choice, same money but we need the following: full name, address, date of birth, mobile number and e-mail address.
Full Membership is €50 for an Adult and €35 for Junior U'16 and O'65
Lite Membership is €25 for an Adult and €20 for Junior U'16 and O'65
Check out this link to see what you get in the Full Membership pack :
http://www.manutd.com/en/Official-Membership/packs_prices_benefits
Note: you only receive a membership card with the Lite Membership
We want to get these memberships in as soom as possible, please contact us throught the "contact us" link or call Eddie
The fixtures for the new 2017/18 season are now released, with United kicking off the new season kicking off on Saturday 12th August at home to West Ham.
See  the "Ticket Availability" tab under "Ticket Info" for a full list of United's home games for the nerw season.
Hotel Football Packages for 2017/18: With thanks to Hotel Football we have a number of Match Day Hospitality for the upcoming season. There are 2 different packages, 1to suit a game with a kick off before 3pm and 1 to suit a game with a kick off after 3pm. The packages are priced at €99.00 each and include a free bar, 3 course meal and Q & A session with a legend. The full itinerary is laid out below. If you have any interest in buying a Match Day Hospitality please get in touch. Please not no match ticket is included in these packages.
For Kick-Offs before 3pm:
2 Hours Before the Game in our prestigious Stadium Suite:
A Champagne Reception
Breakfast Rolls & Pastries
Complimentary selection of beers, wine & soft drinks throughout
Match Day Programme
Q&A with a Manchester United Legend
After the Game:
3 Course Dining Experience
Complimentary Beers, Wine & Soft Drinks
Post-match quiz
For Kick-Offs at or after 3pm
3 Hours Before the Game in our prestigious Stadium Suite:
A Champagne Reception
3 Course Dining Experience
Complimentary Beers, Wines & Soft Drinks
Pre Match Quiz
Match Day Programme
Q&A with a Manchester United Legend
After the Game:
Complimentary Beers, Wine & Soft Drinks
Post-match snack
Next Meeting, Match Tickets & Annual Raffle :  Our ANNUAL DRAW was held on FRIDAY 5th May  in the Embassy Rooms.
And the winners are:
1st prize of €1,700.00 HARAN GIRLS, Chaffpool, ticket number 1083
2nd prize of €750.00 CAROL WARD, Dromahair, ticket number 384
Well done all, and a big thank you to all ticket sellers and to those who bought tickets.
All match tickets are sold out for remaining games of this season.
2017/18 Champions League: Key dates for the Champions League are
24/08/17: Group stage draw
12–13/09/17: Group stage, matchday one
26–27/09/17: Group stage, matchday two
17–18/10/17: Group stage, matchday three
31/10/17–01/11/17: Group stage, matchday four
21–22/11/17: Group stage, matchday five
05–06/12/17: Group stage, matchday six
Europa League:  United are Europa League champions after a 2-0 win over in Ajax in Stockholm on Wed 24th May. Paul Pogba gave United the lead in the 18th min and Mkhitaryan doubling the lead in the 3rd min of the 2nd half. It was not a classic match but United were rarely troubled had ran out easy winners. 
Pre Season Friendly in Dublin: United will play Sampdoria in the Aviva Stadium Dublin on the 2nd August. Tickets are now sold out.
Hotel Football:  Hotel Football have offered our members a package at a special price for next season. We have had a number of members attend HF for the WBA & Everton games, they highly recommend the experience. If you have any interest is taking up this offer, please let us know as this offer must be purchased in advance and places are limited.
Ticket price freeze for 2017/18: United have frozen their season ticket prices for the sixth consecutive year.
The club have also announced their will also be reductions for the 2017-18 season for young season ticket holders reducing the cost of Season Tickets by a minimum of 50% for Under 16s in East Stand Tier 2, Sir Alex Ferguson Stand Tier 2 and Quadrants Tier 2.
There will also be a 25% reduction applied to EFL home match tickets next season, in addition to the 25% discount already applied to UEFA Europa League games (if applicable), providing further savings.
Liverpool Airport to Manchester: 
You can now choose between making the journey by train or bus
By Bus: Northwest Coachlines run a number of buses directly between Liverpool Airport & Manchester city centre for a fee of £15.00 return. Tickets must be booked at : http://northwestcoachlines.com   
Bus company TERRAVISION have ceased operating between Liverpool Airport and Manchester city centre, but are selling tickets for the Northwest Coachline service on their website.
By train: fans can take the train to Manchester from South Parkway Railway Station, which is 3 miles from Liverpool Airport. Trains leave for Manchester every 30 mins approx. There is a bus service between the Airport & South Parkway station or take a taxi.
 Please check the time tables before travel to ensure they suit. Check out times and fairs at www.nationalrail.co.uk
Please keep this in mind when booking flights etc as this will add  time to your journey.
Hotel Football:  Hotel Football opposite Old Trafford offers a unique experience for all United fans right on Old Trafford's doorstep. The offer different level packages, from walk in bars, buffet package to full sit down packages including a Q&A session with a United legend. Special discount codes are available for Branch members, get in touch if interested. Clink on the link at the bottom of the page to see their website for details, upcoming packages and prices  or visit www.hotelfootball.com
@MUFCSligobranch: Don't forget you can follow us on twitter for the latest news regarding all things United at @MUFCSligobranch
Branch Text Service: Regular text messages are sent to members with information regarding upcoming meetings, United fixtures, ticket available etc..
If you are a member and not receiving  these texts and would like to be included, please e-mail the Branch using the "contact us" link, confirming your name and mobile number.
GALLERY PHOTOS: If any member has a photo associated to United and would like to have it displayed in the gallery pages of this website, please bring it to the next meeting, all photos will be returned.
         OUR SPONSORS         
Ireland West Airport - Knock: May 2016 marked the 30th Anniversary of Ireland West Airport (formally know as Knock Airport) and the opening up of the West of Ireland to many parts or Europe and visa versa. Today, regular flights depart and arrive from Spain, Portugal, Italy, Scotland and various airports in the main cities in England.
For members of our Branch, and Manchester United fans in general, Ireland West Airport has made our journey so much easier to get to Manchester to see United play.
With Ryanair flying to Liverpool and Flybe flying directly to Manchester, both on a very regular basis, travel time and cost has been greatly reduced.
We wish Ireland West Airport every success for the future, and we as a Branch of the Manchester United Supporters Club we are delighted to have them as our sponsor.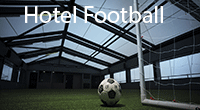 Hotel Football is part owned by Ryan Giggs, Gary & Phil Neville, Nicky Butt & Paul Scholes. It is located a 2 minute walk from Old Trafford. It offers beautiful bedrooms with views of Old Trafford, a must for all United fans. Also on offer is excellemt food and drink.
On matchday, Hotel Football offer a variety of packages from £40.00 which includes food, drink and a Q & A session with a United Legend.
Check out hotelfootball.com for details.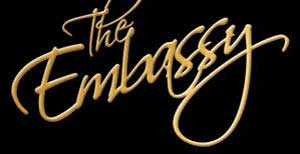 The Embassy Rooms is a bar, restaurant, snooker/pool tables & night club along the Garavogue River in Sligo town.
It is also home to the Sligo Branch of the Manchester United Supporters Club.
Check it out for great food, drink & great entertainment.